05/30/08
BALLOON TWISTERS HAWAII TRICK OF THE MONTH
20th Edition 06/01/2008
Last edit on 06/09/2008 11:23PM
MESSAGE from DaBalloon&MagicGuy
Last month, we were able to perform at the: 1) Hawaiian Waters Adventure Park Mother's Day Celebration…free balloons and magic for the general public
Recent updates…check out Da Balloon & Magic Show because we've added new props, routines, and lights. I just had to upgrade to add to the mood. Thanks to Eric of Creative Sound for your continued support. It's the best local dj sound and lighting shop in the islands. Also, check out our updated menu board, which took me at least 5-hours to create. It's the most colorful and best looking balloon menu board…whew! As Kento (comedian and balloon decorator for Flyin' Hawaiian Balloons) shared, "It's the best balloon menu I've seen." I also added the big babies to the show and everyone loved it. Many have shared that they've never seen anything like it and when they did they just couldn't stop laughing.
My photo has been added to the elite group of Hawaii's magicians…hahaha…check out the link, http://www.hawaiimagicclub.com/photoalbum.htm . It's the local International Brotherhood of Magicians (IBM) Local Ring 185 website. Some of the other magicians listed are Mike Ching, Kelvin Chun, Professor Fun, James Yoshida, Glen Bailey, Harvey Ouchi, Monty, and many more. Check out the website because there is lots of information about upcoming club meetings, as well as free magic classes for the general public. If you're looking for local magic shops or entertainment, the site also lists all the local shows and restaurant performers, etc. If you're an aspiring magician or hobbyist or know of others who are, refer them to the website, which has lots of resources and links. Last month's meeting was interesting because Kelvin Chun, Bryan Yoshimoto, and myself lead a presentation for the members about internet advertising. It was awesome to see everyone networking as a magic ohana. The meeting in May had a magic swap meet.
Don't forget, I will be out of town from June 25-July 2nd. I will be on a family vacation to the Wonderful World of Disneyland…hahaha. I got to do a funny bit of filming myself after a gig. Here' s an idea, which is a spin off of the Super Bowl. I'll be asked what I'm going to do now that the party is done and I'll reply that I'm going to Disneyland…maybe I'll put it with my Disneyland videos and pics when I return.
Here's the Paradise Yellow Pages Ad that is due out in July/August. The ads can be found in two sections: 1) Party Planning Services; 2) Magicians. It is our first yellow pages ad and I look forward to the many referrals.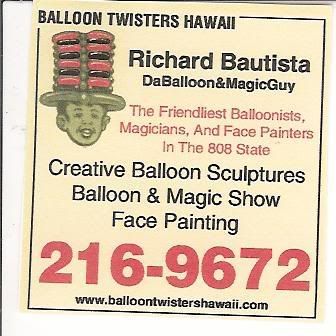 Thanks again everyone for your continued support and referrals…Don't forget to share with all your friends, co-workers, and family…the friendliest balloonists, magicians, and face painters in the 808 state.
Until next month…keep the magic alive,
Richard aka "Da Balloon & Magic Guy"
UPCOMING EVENTS for JUNE:
1 (Sun)- PRIVATE BDAY Party
7 (Sat)- KAMEHAMEHA DAY PARADE: Iolani Palace to Kapiolani Park
7 (Sat)- PRIVATE BDAY Party
8 (Sun)- PRIVATE BDAY Party
8 (Sun)- PRIVATE BDAY Party
14 (Sat)- PRIVATE BDAY Party @ Hawaiian Waters Adventure Park
15 (Sun)- Aloha Stadium Swap Meet 6am-1pm (Section 10B). Free Balloons and close-up magic performances…Magic for sale too.
21 (Sat)- PRIVATE BDAY Party
21 (Sat)- PRIVATE GRAD Party
22 (Sun)- PRIVATE GRAD Party
25-7/2- FAMILY TRIP TO Disneyland
TRICK OF THE MONTH:
Here's a clip of my newest magic effect that I'll be performing at a event near you…It's entitled Flow by Dan Hauss. I'd explain more, but a picture says a thousand words…so watch it.
NEXT MONTH: More updates and pictures/videos of the Wonderful World of Disneyland.