08/02/08
Filed under:
Trick of the Month
Posted by:
DaBalloon&MagicGuy
@ 10:02 am
BALLOON TWISTERS HAWAII TRICK OF THE MONTH
22nd Edition 08/02/2008
Last edit on 08/02/2008 9:00AM
MESSAGE from DaBalloon&MagicGuy
Last month, we were able to perform at:
1) The first annual Ohana Day at Hawaiian Waters sponsored by the Konishiki Kids Foundation. Yes, Salevaa Atisanoe, who many know as the sumo superstar Konishiki. It was supposedly the first fireworks celebration on the Leeward coast…thanks to Konishiki and all the entertainers the event was a huge success. Check out the link for more information: http://www.konishikikids.com/
Here are some pics: A) The boys with the balloon bazooka and laser gun (left); B) DaBalloon&MagicGuy and Konishiki (right)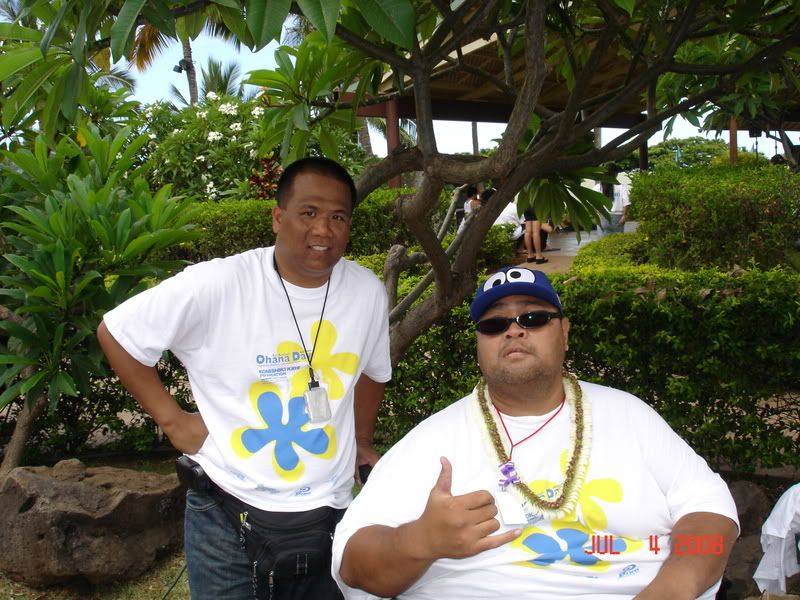 Speaking of Hawaiian Waters…if you still haven't experienced Pau Hana Fridays, please be sure to check out their website for more information. They got Dive-in movies with up-to-date movies (Shrek the third, 10,000 BC, Speed Racer, etc) and select water rides (Tornado, Volcano Express, Water World, Flow Rider, etc) open on Friday evenings. It's fun for the entire family. Check out their upcoming promotions and more info on Pau Hana Fridays: http://www.hawaiianwaters.com/promotions/
2) We also provided some balloon twisting entertainment for the Grand Opening of the Laie Foodland Pharmacy. Everyone was surprised to see all of the balloon creations. Hopefully, that will mean more gigs on the other side of the island…but that won't look good on the gas bill…hahaha.
3) In addition, we provided several volunteer hours at the Windward and Leeward YMCA. We performed some magic shows, twisted balloons, and performed some close-up magic as well. We hope all the youth and families enjoyed the free entertainment.
Now, of course, we performed for many parties and graduations. We even got a chance to debut some of our newer stuff (magic tricks, balloon sculptures, the new token system, etc). So, what are you waiting for? Tell your friends to invite us to be a part of their event or party and you'll experience the friendliest balloonists, magicians, and face painters in the 808 state.
Personally, I moved to Ewa by Gentry into a beautiful new home. In addition, the new school year has begun, thus I'm back to work. I am looking forward for some free time. Beginning next month, I made sure I got some free time to spend with my kiddies. I even purchased some season tickets to attend some UH games. Thankfully, I'll be missing only two of the home games due to advanced reservations. All in all….everything is well.
Until next month…keep the magic alive,
Richard aka "Da Balloon & Magic Guy"
*UPCOMING EVENTS for AUGUST:
Seems like a very busy month…hahaha.
2 (Sat)- PRIVATE BDAY Party (2x)
3 (Sun)- Aloha Stadium Swap Meet 6:00-1:00p @ Section 13 B/C. Free balloons and street magic. Magic for sale.
3 (Sun)- PRIVATE GRAD Party
7 (Thu)- PRIVATE Family Reunion
8 (Fri)- PRIVATE BDAY Party
9 (Sat)- PRIVATE BDAY Party
10 (Sun)- PRIVATE BDAY Party
16 (Sat)- PRIVATE BDAY Party (2x)
17 (Sun)- PRIVATE BDAY Party
23 (Sat)- PRIVATE BDAY Party
24 (Sun)- PRIVATE BDAY Party (2x)
30 (Sat)- PRIVATE BDAY Party (2x)
31 (Sun)- PRIVATE BDAY Party
*The most up to date calendar of events…visit www.balloontwistershawaii.com. See calendar of events.
TRICK OF THE MONTH:
Here's a short movie of our Disney Family trip. We spent a week in Disneyland enjoying both theme parks. We got a chance to also see some family during the trip. So…enjoy the short video with the "Disney Parade of Dreams" song for the background music. Enjoy.
NEXT MONTH'S ISSUE: A new video performance, more photos, and updates.