09/08/08
BALLOON TWISTERS HAWAII TRICK OF THE MONTH
23rd Edition 08/02/2008
Last edit on 08/02/2008 9:00AM
MESSAGE from DaBalloon&MagicGuy
It's been very busy as of late. I am posting this month's blog kinda late. I've been booking many packages lately and that's a good thing. I've performed the most magic shows this year than in my 13 year history of being in the business. I've also been able to add more balloon twisting designs to the menu bringing the selection to over 50+ balloons. I've also been able to find a reliable face painter and am in the process of working with other companies to build a partnership to provide deals for the consumers.
SO…I thought of posting some referrals to other business that I've been able to work with at various events and parties. Although I am posting some business that I normally would refer, I do not take responsibility for their business promotions, actions, or activities. If you or your friends will be checking out their services, please let them know that I've referred you.
Pacific Photo Company: http://www.pacificphotocompany.com/ This company, as its name states, is a photo company. They set-up a backdrop and party goers pose for pictures individually or in groups. The photos are uploaded to a computer and each person is able to select from various backgrounds. If party guests want to purchase additional photos, they can purchase them at an additional charge. Each photo comes with a cardboard frame. I've worked with them on numerous occasions and they do get large crowds. If you haven't taken a group or family photo, this is a great opportunity. Check out the photos that I took.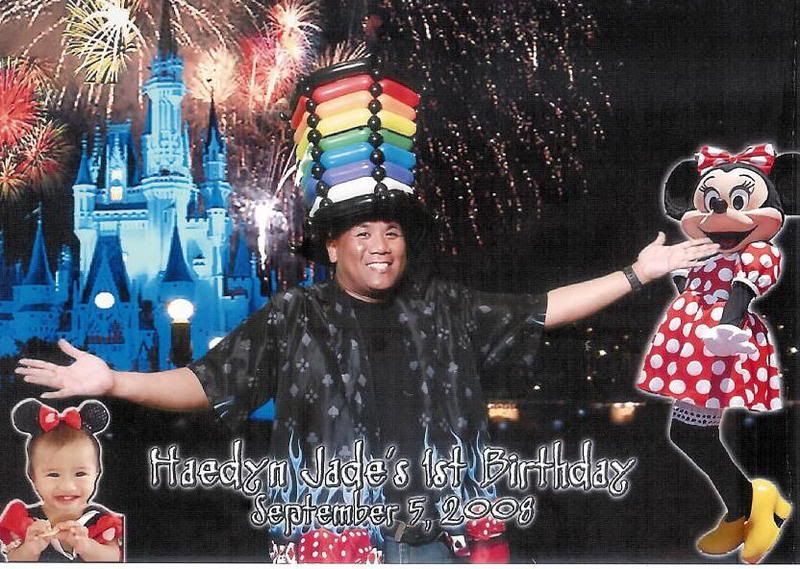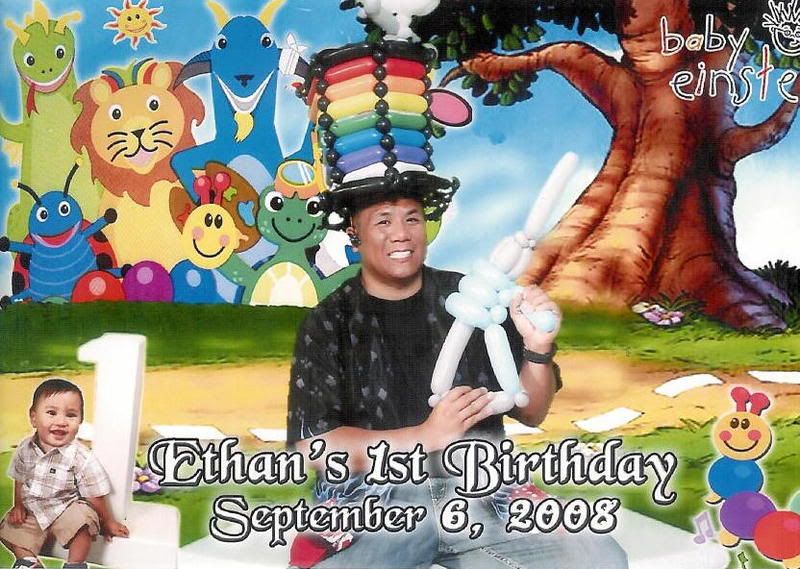 Greg Gabaylo: http://www.greggabaylo.com/ He is a master hypnotist and the world's fastest juggler. I've watched both his comedy hynosis and juggling/magic show and he's hilarious. I've worked with him on many occasions and I enjoy his company and his professionalism.
808 Sounds: http://www.808sounds.com/ If you're looking for a professional DJ, check these guys out. Again, I've worked with them many times and they are very flexible.
Chewy's Snacks: 674-8386 They provide shave ice party packages for various events and occasions. I've tasted shave ice and these guys have some of the finest shaved ice. Finer shave ice means that it holds the syrup. Trust me…this will be some of the best shave ice you've tasted.
Royal Hawaiian Caricatures: 923-6714 Recently, I've been working with them a lot. I always wanted a caricature and know how much they can cost. Go to Waikiki and find out. I've seen these guys and the photos are numero uno and they've been around since 1969.
Don't forget, if you want QUALITY Balloon Twisting, Face Painting, and Magic (Close-up or stage)…contact the friendliest balloonists, face painters, and magicians in the 808 state.
Until next month…keep the magic alive,
Richard aka "Da Balloon & Magic Guy"
*UPCOMING EVENTS for SEPTEMBER:
I got 2 season tickets to the UH Football games and the pay-per-view package, so I'm trying my best to be able to go to the home games and watch the away games…hahaha.
5 (Fri)- PRIVATE BDAY Party
6 (Sat)- PRIVATE BDAY Party (2x)
6 (Sat)- UH Football vs. Weber State @ Aloha Stadium
7 (Sun)- PERSONAL Family Reunion @ Bowen Park (Schofield)
13 (Sat)- PRIVATE BDAY Party (2x)
13 (Sat)- UH Football vs. Oregon State (Away)
14 (Sun)- Aloha Stadium Swap Meet
20 (Sat)- PRIVATE BDAY Party (2x)
21 (Sun)- PRIVATE BDAY Party
27 (Sat)- UH Football vs. San Jose State @ Aloha Stadium
28 (Sun)- Aloha Stadium Swap Meet
*The most up to date calendar of events…visit www.balloontwistershawaii.com. See calendar of events.
TRICK OF THE MONTH:
Here's some videos that I've seen on youtube. Check them out…they're absolutely AMAZING!
The first video features Soma's act performed at the Magic Festival of Meribel 2008. It's very entertaining and I know you're going to flip out when you see some of his stuff. It's 7 minutes of pure fun entertainment.
The second video features Jason Jacobs card magic. I like it because it's one continuous shot. Listen to the words of the song because the magic is performed with the lyrics in mind.
NEXT MONTH'S ISSUE: A new video performance, more photos, and updates.
Leave a Reply